New Year's at Villa Kunang-Kunang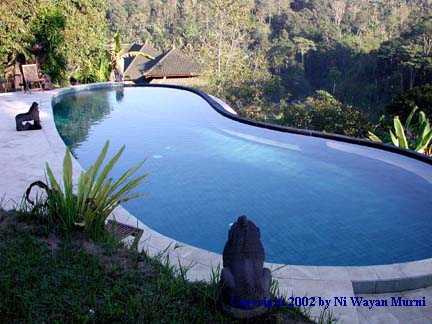 Located on a hill above Ubud, Villa Kunang-Kunang consists of two main buildings, one a restaurant and lounging area, the other a two story villa. In addition, Villa Kunang-Kunang boasts a beautiful pool that overlooks the valley, a stone garden of 33 buddhas, the lotus pond, an outdoor shrine (visible above, behind the bridge) and several barns.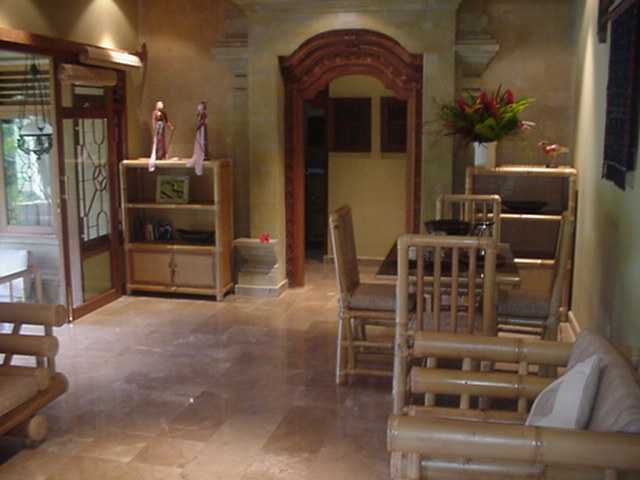 The villa itself consists of a large living room/dining room area (the pictures to the immediate right and left), two bedrooms (the master bedroom is shown at the bottom left) and bath, and a huge open porch that looks out over the rice paddies below. The interior is light, with lots of windows and a marble floor. The woodwork is distinctively Balinese, with elaborately carved doors. The furniture is also local, and is large and comfy. As in Murni's Houses, the couch can easily double as a bed. There are Balinese as well as other Indonesian textiles and handicrafts throughout the house. Everything is meticulously selected and tastefully arranged. The picture at the bottom right shows Tracy lounging on the spacious verandah, where we rang in 2002! For a more elaborate view of the verandah vista, be sure to look at the panorama at the bottom of the page.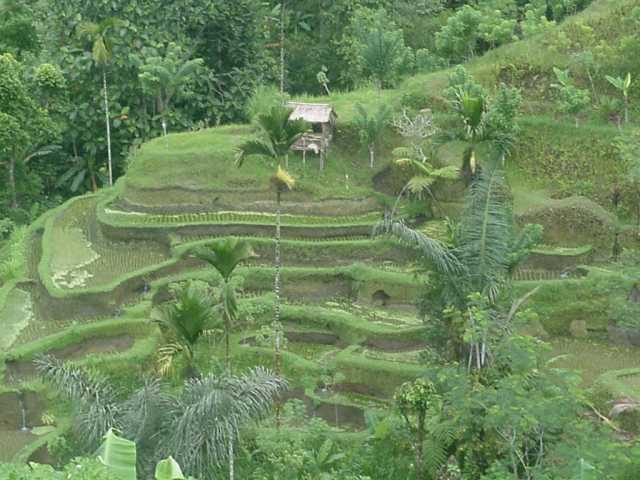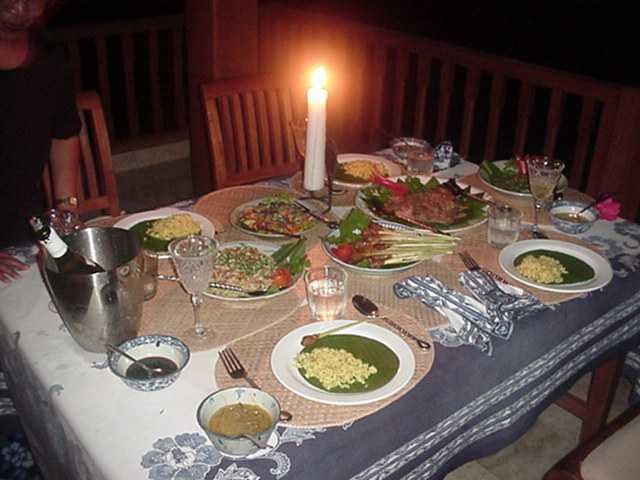 New Year's Eve was spent at Villa Kunang-Kunang. We gathered with Murni and Jonathan (one of the other owners) for drinks on the restaurant balcony and were treated to an even nicer view of the fields below (photo to the left). After dark, we dined out on the same balcony. The cuisine was strictly Balinese. The starters included fish satay on lemon grass and a spicy peanut soup. This was followed by chicken curry, Balinese smoked duck, yellow rice, and local vegetables. Desert was cake, served with fresh local fruits. It was a feast befitting royalty--great food and great company! After a sumptuous meal, we retired to our villa verandah, popped a bottle of Dom Perignon and rang in the new year. Truly a memorable New Year's Eve in Bali

Do-Do-Do. . . Lookin' Out Our Back Door
Originally, this page had a panorama of the rice fields shown in the photo above left. Unfortunately, the javascript no longer runs on newer browsers. So we offer a similar vantage point on Bali, courtesy of YouTube and the photographers at Intrepid 360.
---
360 Video of Tegallalang Terrace Rice Fields