Murni's Houses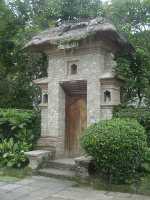 There are few places in the world that are as serene and peaceful as Murni's Houses in Ubud. (Ubud is an artists' colony an hour's drive from the airport at Denpasar.) For Tracy, this was a pilgrimage of sorts, back to one of her favorite retreats in the world. For me, it was the introduction to a wonderful little slice of paradise. Murni, the owner, enjoys a reputation as something of the doyenne of the town; a January 2001 Jakarta Post article describes her as "The Ibu of Ubud." (ibu is the Indonesian word for mother, and a general term of respect). She is also an entrepreneur par excellence. She runs Murni's Houses, a small compound of beautiful guest houses, as well as two crafts shops (Kunang-Kunang I and II), and the well-known restaurant, Murni's Warung. Along with other business partners, Murni also runs the more upscale Villa Kunang-Kunang, just outside of Ubud, which we visited later in the trip.
What makes Murni's so special? Well, to begin with, it is the people! Murni, and her wonderful staff not only see to your every need, but are there to make suggestions and offer explanations. Then, there is the place itself, an intimate little enclave just above the bustling arts center of Ubud. While the compound is not particularly far-reaching, somehow you only sense solitude. Murni's Houses, as you will see in the tour below, is its own cosmos -- as much a feast for the eyes as a respite for the spirit. When Tracy visited again in 2018, she raved about the Tarmarind Spa that had been added since our last visit. Although it has been a haven for the glitterati and has enjoyed write-ups in travel magazines, the New York Times (which voted it one of the top small hotels in the world), Murni's Houses remain as hospitable and affordable as ever. Kathy Cox of Travel and Leisure sums it up well:
If you decide to go, be forewarned: people become hopelessly lazy here listening to serenading geckos and crowing roosters. Breakfast turns into lunch and you're still sitting in the restaurant surrounded by gardens, eating, talking, thinking. But at Murni's you always have tomorrow.
Of course that's not necessarily true for those of us who had to go back to work! We used to have a panoramic tour of Murni's Houses, but it sadly no longer works, due to changes in java security settings. In its place we offer this YouTube video.



Video of Murni's Houses






Back to Bali Main Page