The Piazza dei Pitti and the Palazzo Pitti
The Piazza dei Pitti is located at the eastern end of Oltrarno (the old city). Behind the piazza are the Boboli Gardens and the Forte di Belvedere. Built in 1457 according to designs by Filippo Brunelleschi, it was the home of Luca Pitta, a banker. The owner intended it to outshine the Medici home, the Palazzo Vecchio and, in terms of opulence, it did. However Pitti's wish was relatively short-lived as the family went bankrupt about a century later, and the Medicis acquired the property. (In 1565 they built a secret walkway that led from the Palazzo Pitti across the Ponte Vecchio to the Palazzo Vecchio). The slanting, open piazza (photo to the left) leads to the huge Palazzo (the photo to the right and photo to the lower left show the interior courtyard). The Palazzo Pitti is divided into four different viewing areas now. The Galleria Palatina features Baroque and Renaissance works from the vast Medici collection, presented in no particular order. The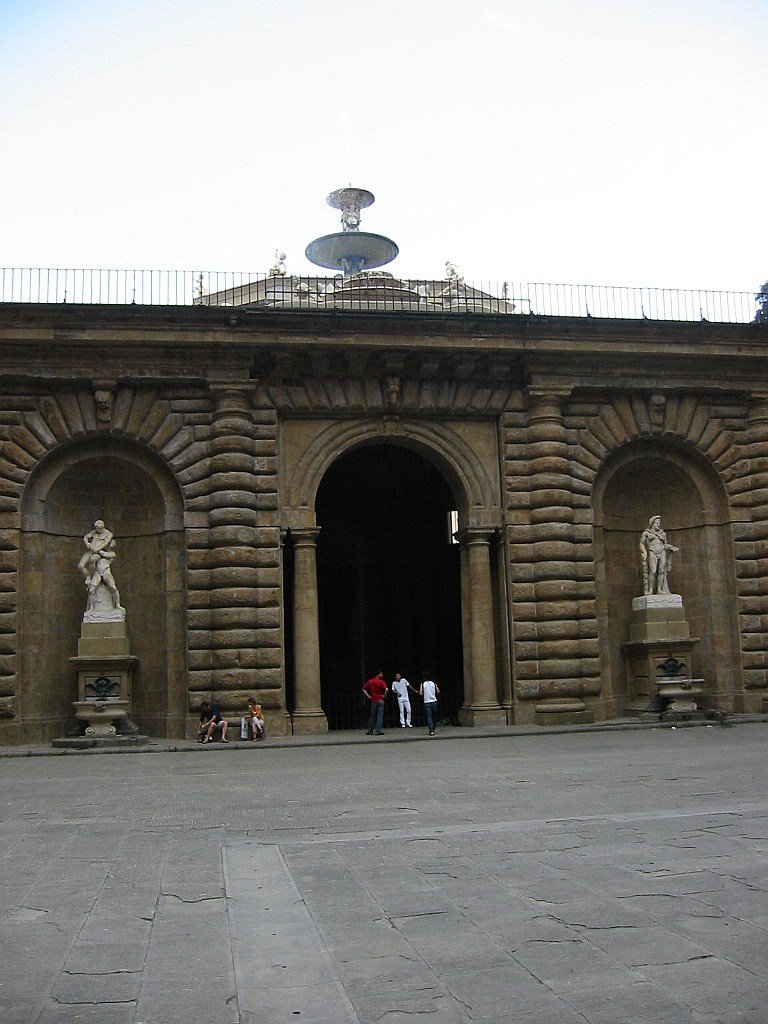 collection includeds important works by Titian (Mary Magadalene and Portrait of a Gentleman), Van Dyck (Charles I and Henrietta Maria), and Raphael (Madonna of the Chair). Upon exiting the gallery, visitors enter the Appartamenti Monumentali, a series of estate rooms preserved as they looked when the Medicis resided there. The Museo degli Argenti is more of a tribute to the Medici's propensity for acquisition than their patronage of the arts. As one guidebook describes the exhibit:
"The Museo degli Argenti is a triumph of Medici wealth over taste. Rooms are full of ghoulish reliquaries, Roman glass, and Roman and Byzantine vases in pietra dura style (inlaid with marble and semi-precious stone pieces) that belonged to Lorenzo the Magnificent. Upstairs is an attractive display of cameos, as well as a 17th century colored-glass Crucifixion scene that is in such appalling taste as to be hilarious" [Fodor's Florence, p. 28]
The other two collections housed in the Palazzo Pitti are the Galleria del Costume (18th-19th century court fashions) and the Galleria d'Arte (Italian art from the 19th-20th centuries).
Museums within the Palazzo Pitti
[Click on Photos to Enlarge, Hit Browser "Back" Arrow to Return to this Page]






Galleria Palatina-Hall of Mars



Aapartamenti Monumentali






Museo degli Argenti



Galleria del Costume


Artwork in the Gallleria Palatina
[Click on Photos to Enlarge, Hit Browser "Back" Arrow to Return to this Page]









Titian's

Mary Magdelene

Titian's

Portrait of a Gentlemen



Van Dyck's

Charles I



Van Dyck's

Henrietta Maria











Raphael's

Madonna of the Chair