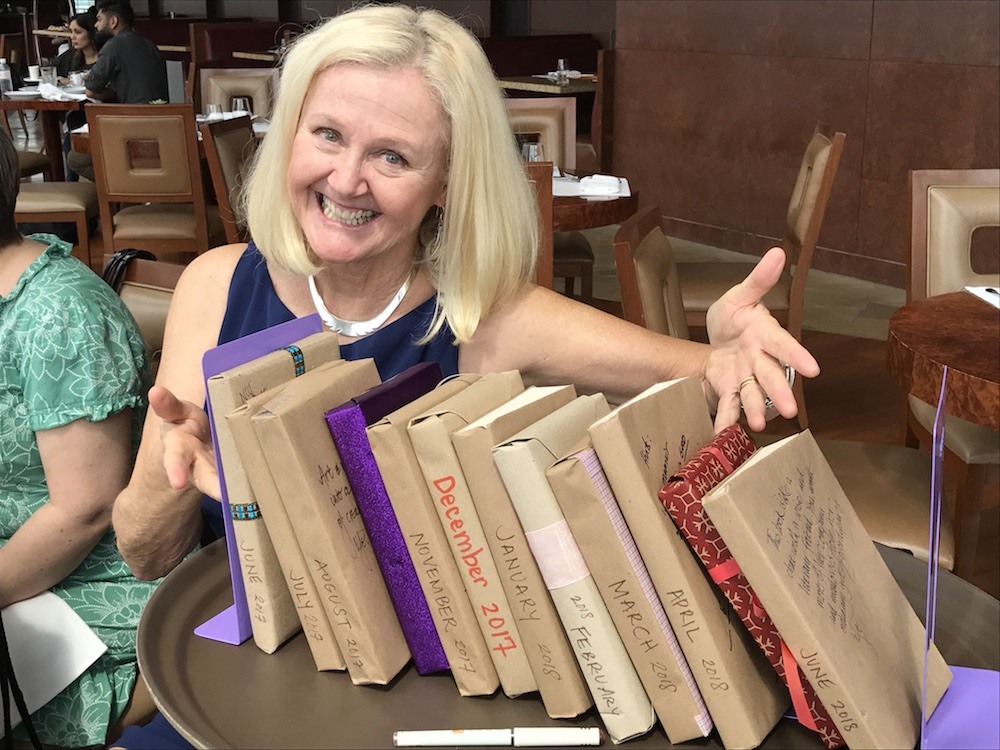 In June of 2017, Tracy finished her teaching career at the International School of Kuala Lumpur, an adventure that took her from Orange County, Virginia to Lancaster, Pennsylvania and then internationally to Sri Lanka, Indonesia, Lebanon, Singapore and Malaysia (with a stint in North Carolina between Jakarta and Beirut). There were two separate celebrations. The first was with colleagues at the International School of Kuala Lumpur, and it was hosted at the Grand Hyatt in late May of 2017. The photo to the upper left shows Tracy and colleagues celebrating at a roundtable overlooking the city center. To the right, she displays a thoughtful gift -- favorite books from each of the women, one for each month of the ensuing year.
We celebrated a second time as a couple, and it was a double celebration -- Tracy's retirement and her 65th birthday. Since Tracy stayed in the US for our niece's (Kate's) wedding, we were apart for her birthday. So, in late September we celebrated both our birthdays and Tracy's retirement at our favorite resort, the Four Seasons at Jimbaran Bay. It was our fourth visit: we first went to celebrate Tracy's 50th, and then returned once solo and once again with her sister Laura and my brother-in-law, Ward. For the retirement do, the celebration spanned three days, and there was a different focus to each day. We left mid-morning on an AirAsia to Bali. To celebrate, we upgraded to the AirAsia X flatbed seats, the poor man's business class. Upon arrival, we were whisked to the welcoming check-in area of the Four Seasons, shown in the photo to the right.
Moments later, we were in the golf cart, heading to the villa. All the villas at Jimbaran Bay are pool villas, and all have a view of the bay. To see more of this stunning villa, please take the virtual tour below.
Virtual Reality Tour for VR Headsets
:
There is also a version of this tour designed specifically for VR headsets such as Google Cardboard, and it works with both iPhone and Android devices. It may be access by scanning on the QR code to the left. If you are viewing this on a mobile phone, you may access the VR tour by following this link.


For iOS devices: scan QR code with your device's camera app, tap on the prompt to open Safari. Select "Allow Device Motion" and the next prompt, "Allow Access to Motion Orientation." Turn the device to landscape mode and a split screen will appear. When the screen turns white, swipe up for fullscreen mode, and place in headset. Here is a video of how to do this--it is simpler than it sounds! [The video opens in a new window--close when done to return to this page]
For Android devices:

Open the camera app and use the built-in scanner to scan the QR code above. Confirm that you want to open the website, and wait for it to load--it should load in stereo view. Select the fullscreen ("X" option) from the menu at the bottom. Turn the device to landscape mode and you are ready to go. Here is a video of how to do this
--it is simpler than it sounds! [The video opens in a new window--close when done to return to this page]