St. Andrew's Ball
The Caledonian Society, a community of Scottish expatriates in Lebanon, organized the St. Andrew's Ball, held in honor of the Patron Saint of Scotland. The ball took place on November 28, at the Century Plaza Hotel in Kaslik, a suburb just north of Beirut. This was my first St. Andrew's Ball, while Tracy has attended many of them in Colombo and Jakarta. In preparation for the event, we joined some members of the Committee in their dance practice sessions. It was a terrific evening, and here are few photos to give you a taste of it.

---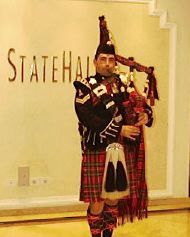 After proceeding down the stairs to the State Hall and being impressively greeted by our first kilted friend of the evening, our next encounter with Scottish culture came in the form of bagpipes. Stephen, a Scottish soldier and bagpiper par excellence, was flown in from nearby Cyprus for the occasion. He played every time guests arrived -- all 200 of them!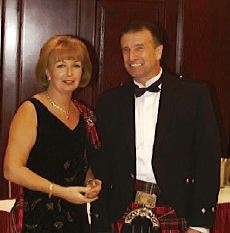 Next, guests were greeted by the Chieftan of the Caledonian Society, Graeme Scott and his wife, Ailene. Graehme was among the first people we met when we arrived in Beirut -- we ran into him on our first trip to the grocery store, and discovered they're ACS parents. They have gone out of their way to make us feel a part of this community, keeping us abreast of and giving us a lift to dance practices, while serving as the chief coordinators for the ball. The Scotts are fun-loving people!









Here we are returning from our evening's first attempt at Scottish Country Dancing, "The Gay Gordons." The ball itself was a multi-layered event: a wonderful dinner, speeches, a demonstration of dancing by the Society's members, and then Scottish Country Dancing alternating with disco for the crowd of diverse expatriate and Lebanese guests. The tartan plaid Tracy wears was offered her by Ailene the day of the dance...and inspired us to go out and buy a dress (that afternoon, in one of the boutiques outside our lovely hotel) that would go well with it! It was an honor for her to sport that sash, and a first for her at a Saint Andrew's Ball.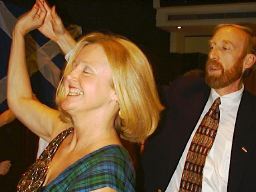 Here is Tracy demonstrating her response to "Ladies, under!", as I attempt to remain upright. The dancing was loads of fun, and the revelry lasted until about 2:30 in the morning. Tracy's note: As Dale has allowed me to step in here, to edit or do with his text as I will, I feel obliged to mention that Dale received many compliments by Committee members on his dancing -- he was amazing!!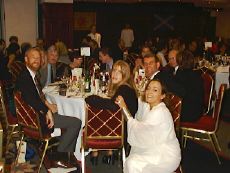 We shared a table with several members of the ACS faculty and their family. Counterclockwise from Dale are: Gigi Roche, Richard Leydet, Mr. and Mrs. Bolz (the parents of Jennifer Wallace, seated next to them) Steven Wallace, Laurie Schmitt, Nathan Taylor, and Tracy (callously obscured by our waiter/photographer).








Here we are at the table, taking a break from the festivities. The worst thing about St. Andrew's is that it happens only once a year!