Trakoscan Castle is the most visited castle in Croatia. Located 81 kilometers or 50 miles from Zagreb (near Varazdin), it a very popular day trip destination. The second week of June, just before the school term was over, a colleague of Tracy's offered to take us there. This is a "story-book" castle, something right out of Disney movie or a fairy tale. We spent a Saturday exploring the castle and grounds.


Historical Background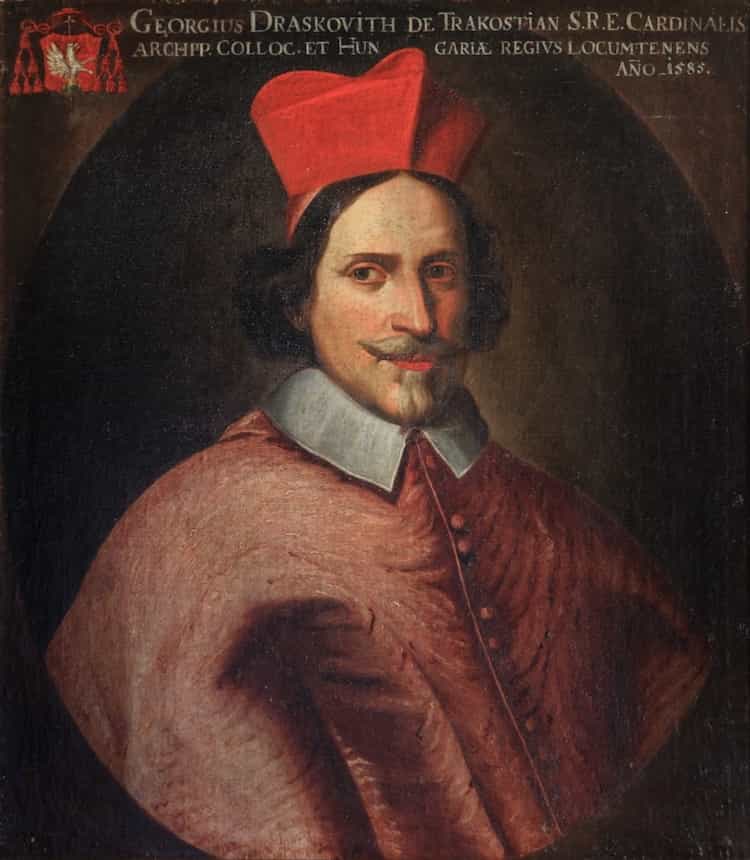 In many ways the story of Trakoscan Castle parallels that of Samobor Castle which we visited earlier in our stay in Croatia. Both were built up from smaller initial fortifications, both transitioned from fortifications to residential structures, and both fell into disrepair in the 19th century as the cost of maintaining large residences became prohibitive. In the case of Trakoscan Castle, it began as a small fortress monitoring the trade route from Ptuj to Bedna Valley. Sources dispute the origin of its name, some claiming it was named after another fortification, while others claimed it was named after the knights of Drachenstein. It is first mentioned in written records in 1334, and changed hands many times until it passed into the Draskovic family in 1525. However, by the late 18th century the fortress was abandoned. However, it did not meet the fate of Samobor Castle, as the Draskovic family, led by Juraj V. Draskovic, began its restoration in the mid-19th century, turning into a Neo-Gothic style private residence--the style it retains today. The Draskovic family inhabited the castle until 1944 when the family fled to Austria and the castle was nationalized. By this point it had again fallen into disrepair and it has steadily been renovated, bringing it to its current state as a museum.


The Castle Grounds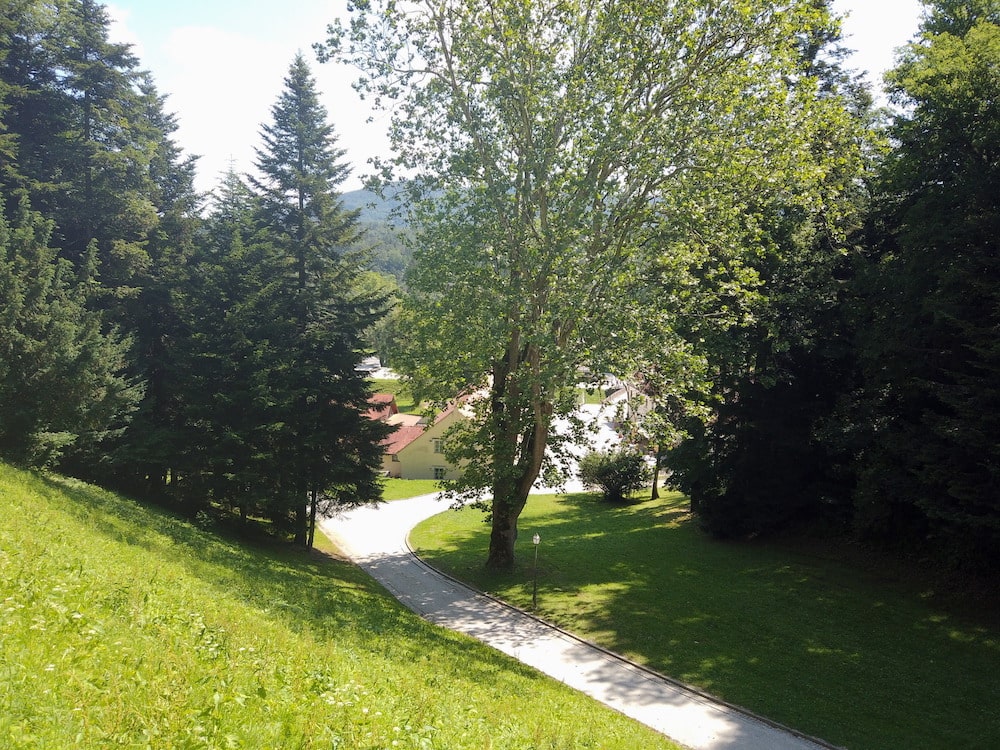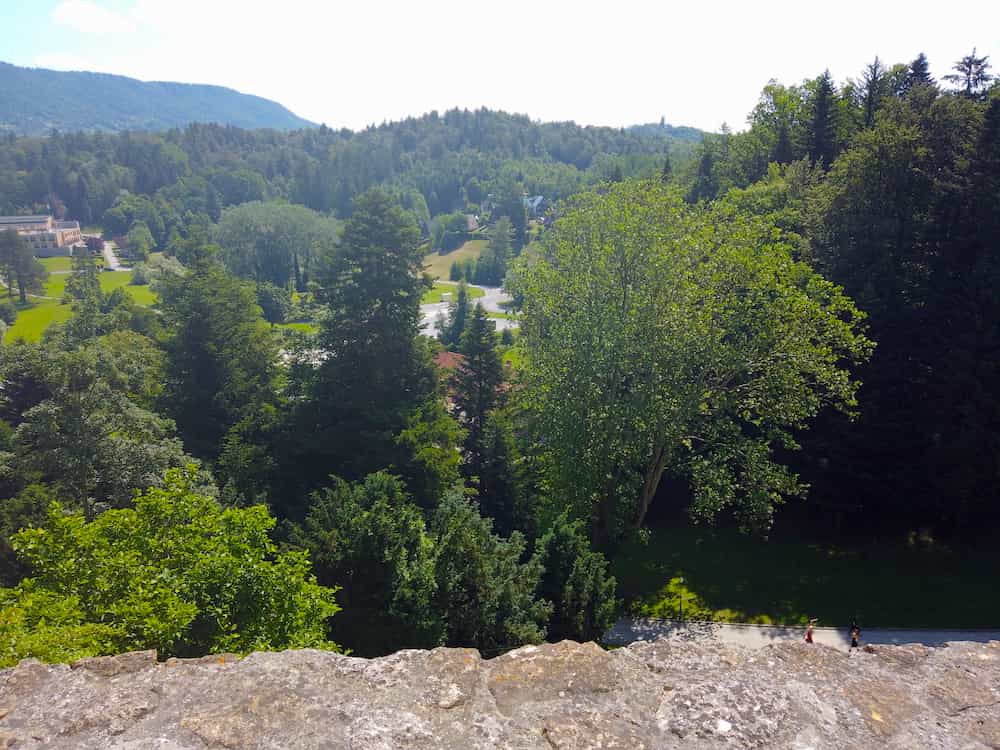 When the Castle was renovated in the Romanticist vein, the surrounding area was turned into a park and lake complex surrounding the palace, and these features remain today. The grounds are on full display as one leaves the parking lot, passes by a small bistro, and begin the zig-zagging path up to the castle. Midway up there is a small round plaza and, ascending higher, the path offers stunning views of the valley below. Sadly, the lake seems to have been drained, robbing photographers of that beautiful mirror image of the castle in the water.



Aerial Views of Trakoscan Castle and Grounds






Layout of the Trakscan Castle
While it is impossible to catalog all of the rooms of the castle, here is a description of the main rooms on each of the 3 floors or levels of the castle proper. Click on the image of any of the floor plans to enlarge them.


Floor 1

: the first floor of the castle is accessed by passing through the gate and courtyard. This level contains the Knightly Hall, the Library, Lobby, Hunting Hall, Family Hall, and an inner courtyard leading to an Armour Collection spanning 3 rooms.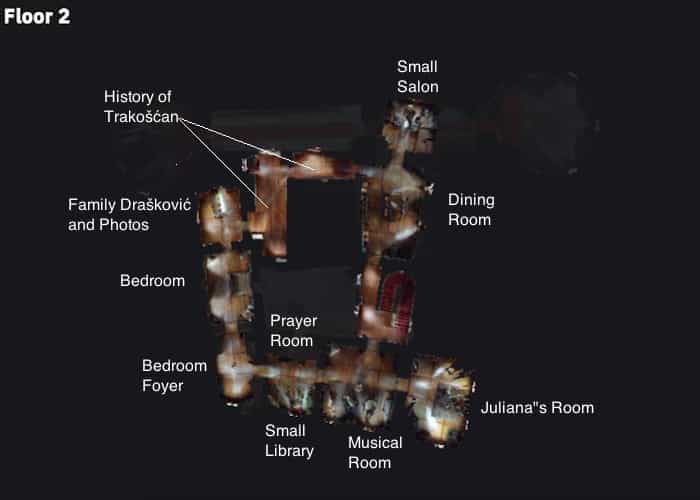 Floor 2

: the second floor of the castle is devoted to the Draskovic family, the last private owners of the castle. It includes an exhibit of the history of the castle, phoots detailing the lives the family, a bedroom and foyer, a small library with an adjacent prayer room, a music room, Juliana's Room (paintings), the dining room and a small salon.







Floor 3:

the upper floor of the castle is largely devoted to the arts, both painting and decorative. It includes a two-room picture gallery, rooms dedicated to Baroque, Rococo, Neo-Renaissance, Classisist and Biedermeier decor, a painted wall paper room, a and a room of officer's portraits.






Take a Virtual Tour of Trakascan Castle
About this Tour: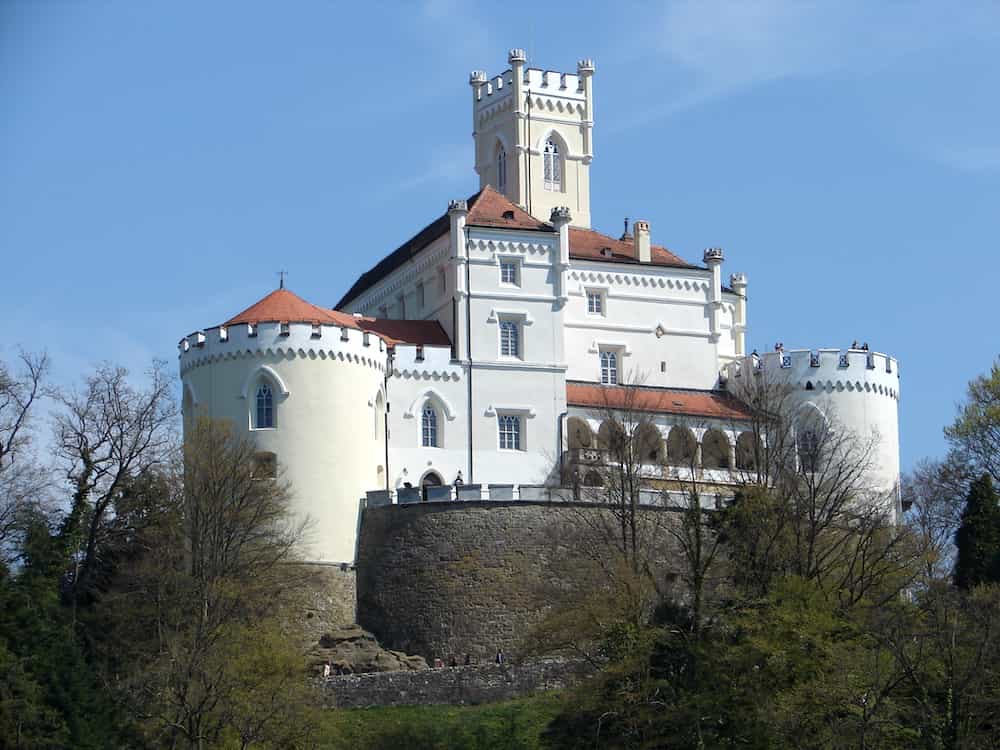 While our website offers many virtual tours of historic sights, they are done with basic free software and cannot compare with professional tour makers using cameras costing thousands of dollars and software that is equally pricey (not to mention the steep learning curve involved). In researching the castle we found one such professional tour of Trakoscan Castle, and it is the most detailed virtual tour we have ever seen. It was created using Matterport VR software and hosting (https://matterport.com). The tour was built by Tornado 360 (http://www.tornado360.eu) and posted on the Trakoscan.hr website (https://trakoscan.hr). Consulting the Matterport "Users Agreement" we found that they in fact encourage the sharing of their product in their and so we are embedding it here for your convenience. (It is a bit buried on the castle's website.) This is about as "real" as virtual reality gets!



How to take the tou

r

:
There are 3 ways to take the tour, using the buttons at the bottom left of the screen

PLAY

: click on the "Play" button for a guided tour of the Castle. Pressing "Pause" stops the tours and you may look around the room.

DOLLHOUSE

: offers a cutaway view of each room in the castle. Click on this icon and then click on the room you wish to visit

LAYERS

: you may select any one of the castle's 3 levels, and from there select the room you wish to visit