One of the great pleasures of traveling to new locales is discovering new restaurants. Freed from the limitations imposed by the Covid-19 surge in Malaysia, we were free to explore new restaurants each weekend while living in Zagreb. We have divided this gastronomic tour into two catgorie--casual dining and fine dining.
The meals in the former category would be 20 US dollars per person or less for a meal, (sometimes considerably less) while the fine dining restaurants were more in the 40-60 US dollar range per person.

Casual Dining:
Saralee: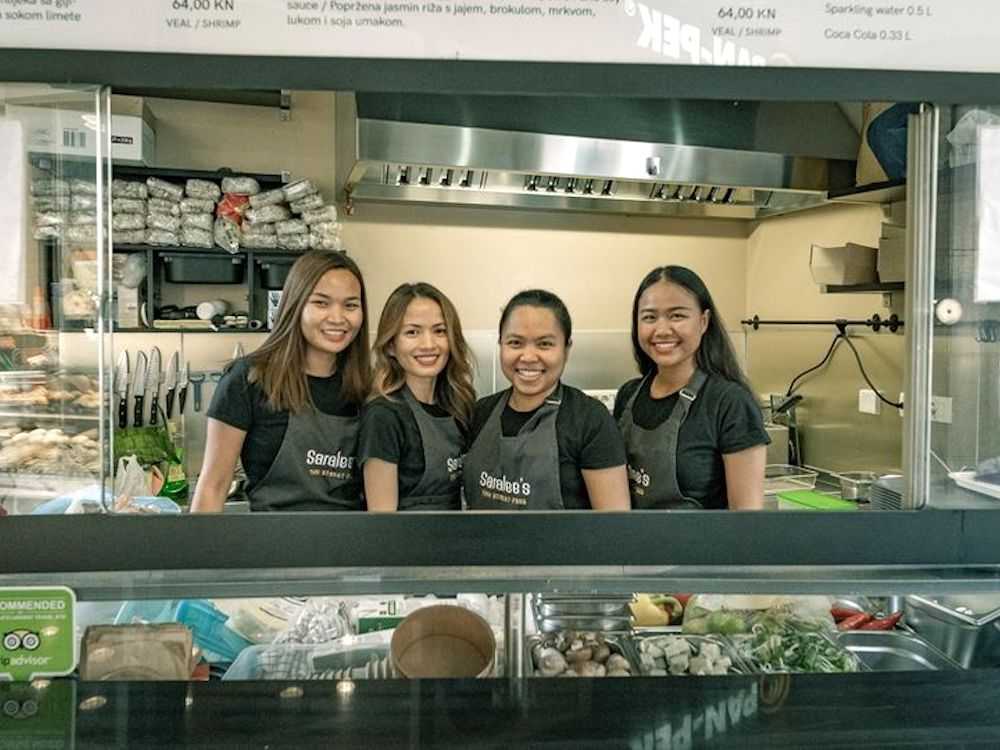 When it comes to casual dining, it doesn't get more casual than Saralee's "Thai Street Food," a little kiosk with four outdoor stools just one tram stop from us. Since dining al fresco during the winter months is a bit too "outdoorsy" for us, we tend to take our spring rolls, friend chicken, or beef soup home to enjoy in relative warmth and comfort. It is a good deal pricier than we find it Thailand, but with the same authentic taste. After two years away from
our home in Sam Roi Yod
, it is a treat to have real thai food. After all, nobody doesn't like Saralee! The photo to the left shows the small restaurant kiosk, while the photo to the right showcases the always friendly and capable staff (that's Saralee second from the right). I'm getting hungry writing about this!
Vagabund: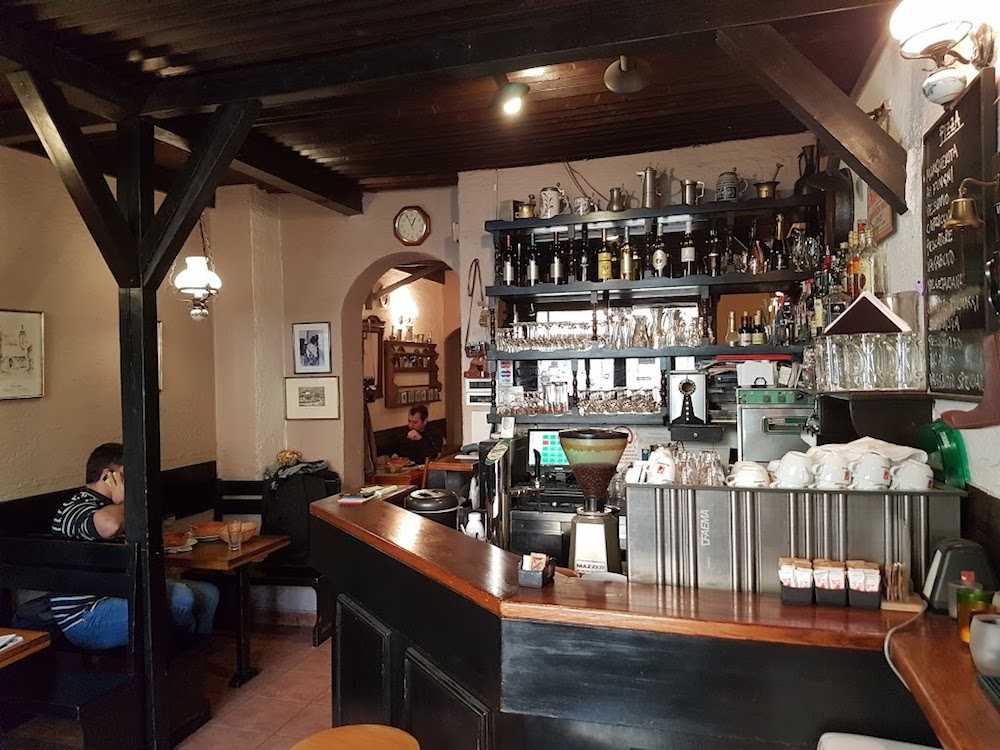 This restaurant was just a short tram ride away--3 stops and 1 tram change. It offers local Croatian dishes and the owner is continuing the tradition begun by his retired father, while his mother is the cook--it is a real family affair! We ate a number of meals there. Perhaps our favorite was the grilled rainbow trout. Prepared simply, it was delcious and only about 7 US dollars. The friendly cook even invited us into the kitchen one night and showed us how to prepare the fish! Another favorite were the fried mushrooms, an absurdly large portion served with yummy grilled vegetables. We also had the chance to sample the pizza and lamb, both equally good. This little pub/restaurant was a favorite of ours, just two tram stops from our home.
Nokturno:
Nokturno is located on a steeply sloped street (say that three times!) connected the plaza just above the Dolac market to Ulica Ivana Tkalcica, a popular pedestrian street lined with restaurants, bars and, of course, cafes. The prices are absurdly low and the food is unbelievably good. The photo to the left shows the sloping street and the outdoor seating where we ate our meals and watched the world go by. Our first night there we completely over-ordered. Tracy had a starter of calimari which was delicious and could almost have made a meal for both of us. Dale had the risotto with adriatic shrimp, again it would have proven hardy far for two people. But, nothing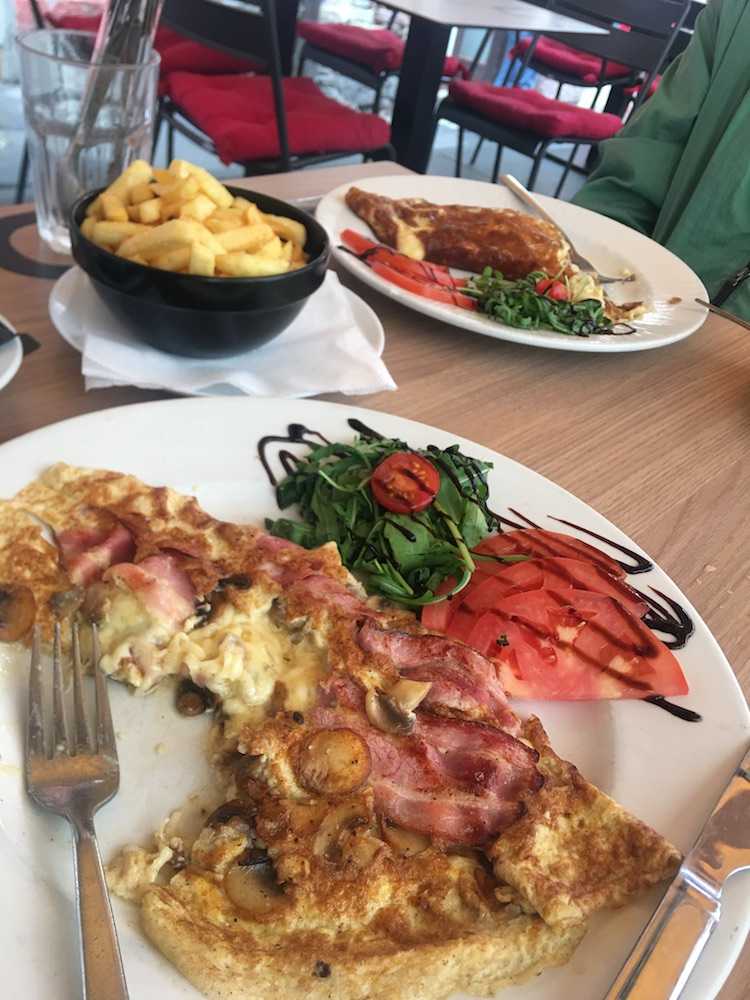 succeeds like excess, so we order a main which was--even larger. We stuffed ourself on a rack of ribs with carmeli wozed onions and oven roasted potatoes. The Ribs were crispy on the outside, yet well braised and literally falling off of the bone. More meat than 2 people would normally eat for about 12 US dollars. Stuffed, we took the potatoes home and make hashbrowns for breakfast the next morning. (I have blocked our cardiologist from reading this page) And speaking of breakfast, a week later returned for breakfast. Nokturno offers large omlettes with combinations of mushrooms, cheese, bacon on ham. They are not exactly early birds, as breakfast does not begin until after 10 a.m., but it was definitely worth waiting for.
Rougemarin:
Located just off the main square, Rougemarin has become our go-to place for a hamburger. Tasty meat cooked medium rare and served on a brioche bun, it is hard to beat. We have lunched there twice and the menu is small but filled with appealing dishes. It is more of a lunch place, and its lunch prices keep the restaurant in the affordable range.
Al Dente
: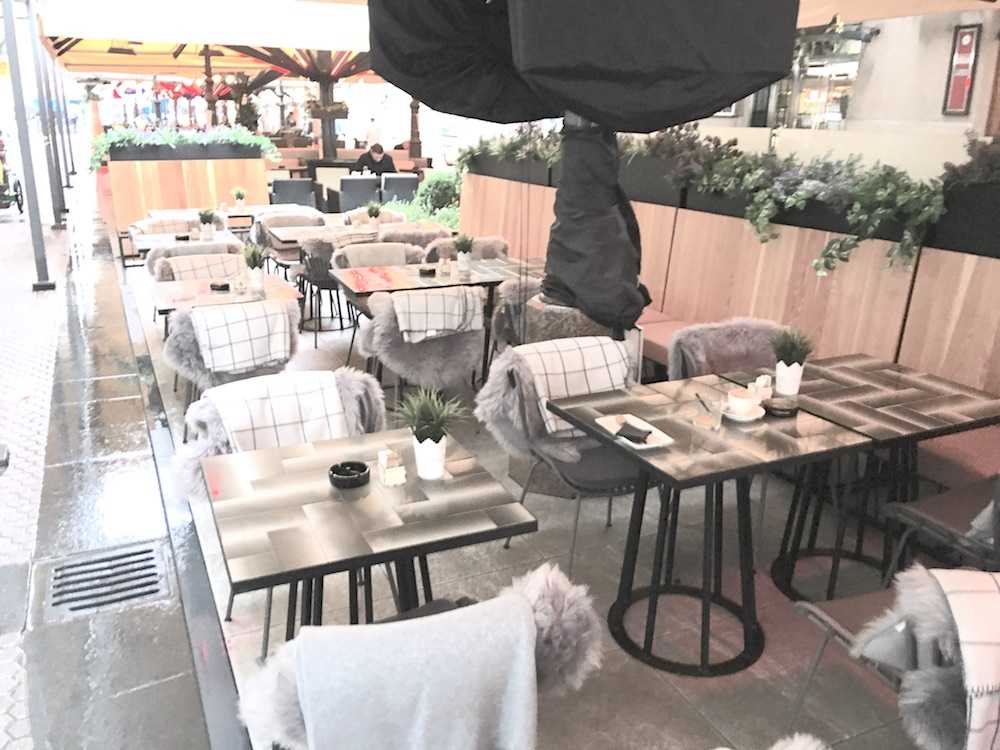 Just two blocks off the main square Al Dente offers the typical outdoor dining--a seating area complete with heaters and blankets on the chairs for cold weather dining. The main draw for us is the pizza--beautful thin cdrust with buffalo mozzarella--Margherita heaven. It is locate on a busy thoroughfare that is perfect for people watching.



Fine Dining
Carpaccio
:
We have visited most of the restaurants on this page twice, and our absolute favorite is Carpaccio. It is located just a few block from the square to it is very convenient. What's to love about this place? Well--everything. The decore is beautiful, informal and colorful, the food is exactly what you would hope to get when in Venice or Florence, and the service is spectacular. All the ingredients for a memorable meal. Our last meal was a case in point. We started with a glass of proseco and moved onto a bottle of red, a Chianti Reserva. The bread basket was only surpassed by the olive oil--that heavenly peppery taste that we love. That was followed by the appetizer, a french onion soup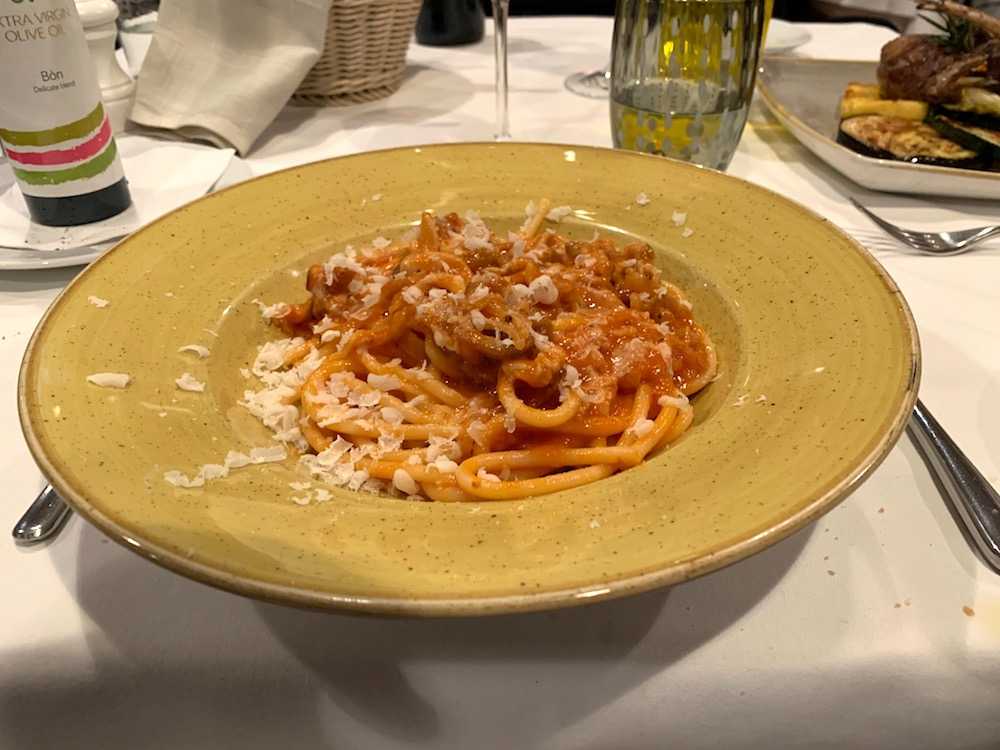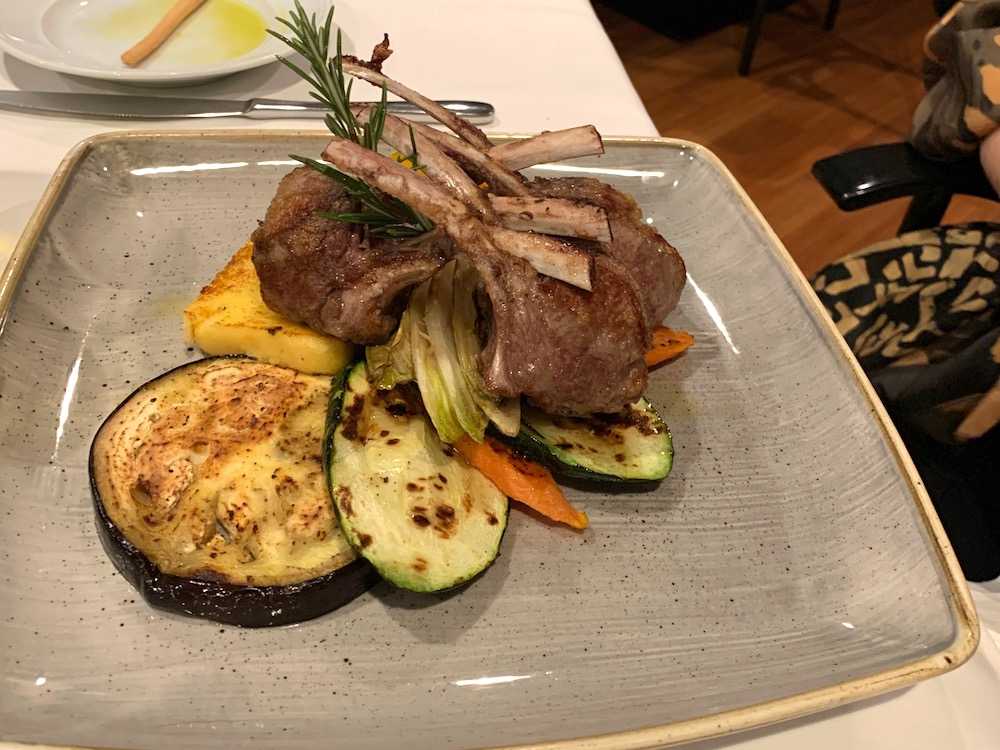 which had a marvelous cheese topping over a hearty broth. Then on to the main course--Dale had a homemade Bucatini with bacon. The pasta was perfectly cooked and there was a meaty flavor in every bite. Tracy opted for the rack of lamb with fennel, grilled vegetables, and polenta. The chops were cooked in pairs and without exception every bite was medium rare--whether pasta or meat, Carpaccio knows what they are doing. Enhancing the atmosphere was the inviting interior and the waiters were terrific--never hovering, yet always there to answer a question or fill a glass. We ended the evening with a terrific apple pie--on the tart side, the way Tracy likes it. The cost for a first-rate dining experience? About 62 US dollars, inclusive on the wines.
Vinodol
:
Vinodol was another fine dining experince. It is located just down the street from Carpaccio, on a row of wonderful restaurants. All of them offer both inside and outside dining (with heaters and a glass enclosure. We opted for the inside, in the large room sown in the photo to the upper right. There was also a larger (warmer) more formal dining room, but it was fully booked. Our appetizers were a creamy mushroom soup for Tracy and a chicken soup with dumpling for me. Both were served hot and hit the spot, especially as the room was a bit on the chilly side, even with the blankets provided to every seat. For our main course Tracy had a seabass with grilled
vegetables, while Dale
opted for the pork loin, which was a sizeable amount of meat. We topped it off with apple crumble (of a somewhat deconstructed variety, while Dale gorged on chocolate lava cake.The photo to the middle left shows the mushroom soup, while to the right is a photo of the chicken dumpling soup. At the bottom left is a photo of the sea bass and to the right the pork loin dish. I think next visit we will book the more formal dining room in advance for a warmer experience, but it was a good fine dining experience. Thus far in our stay in Zagreb we have consistently enjoyed good meals wherever we have dined, regardless of whether it was relatively expensive or inexpensive. Not a place
for vegetarians, however, as meat seems to predominate.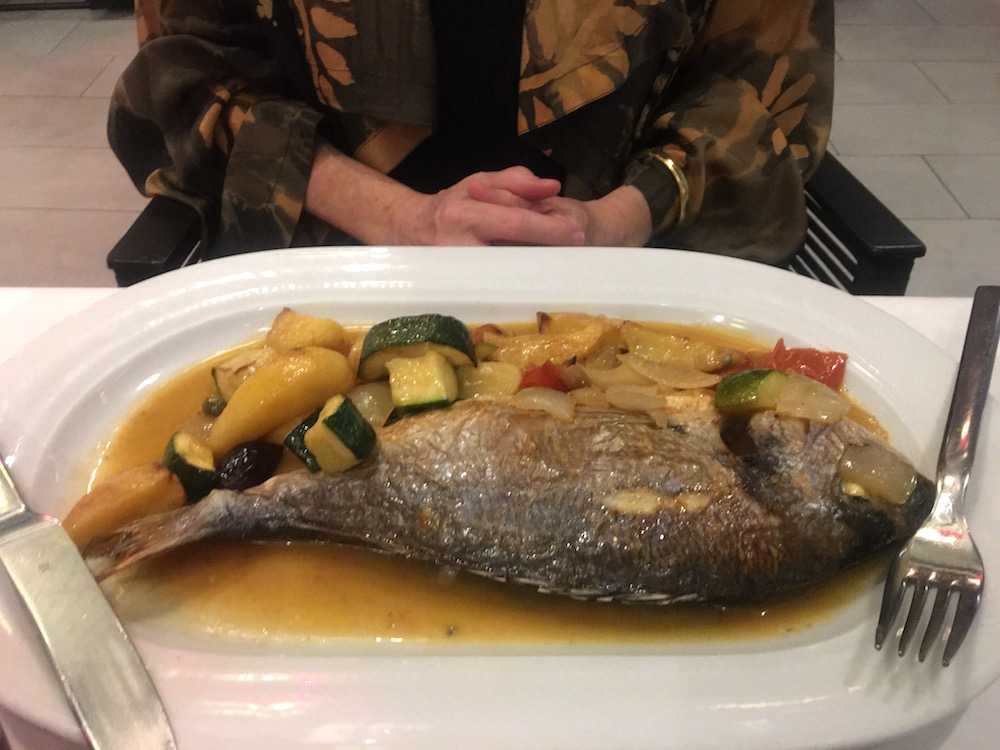 Korcula: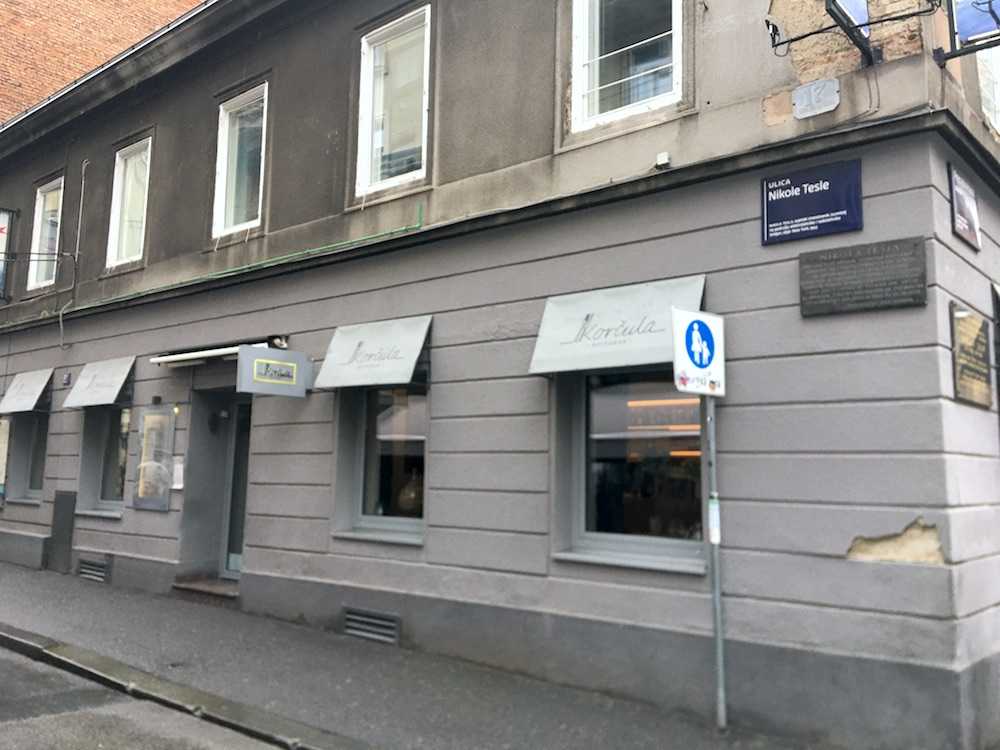 Korcula is on the opposite side of the street from Carpaccio, on the corner of Ulica Nikole Tesle, the "restaurant row" of Zagrebs "old town." We had passed by it several times, and our discerning landlady also recommended it, so we gave it a try.
American Steak House
: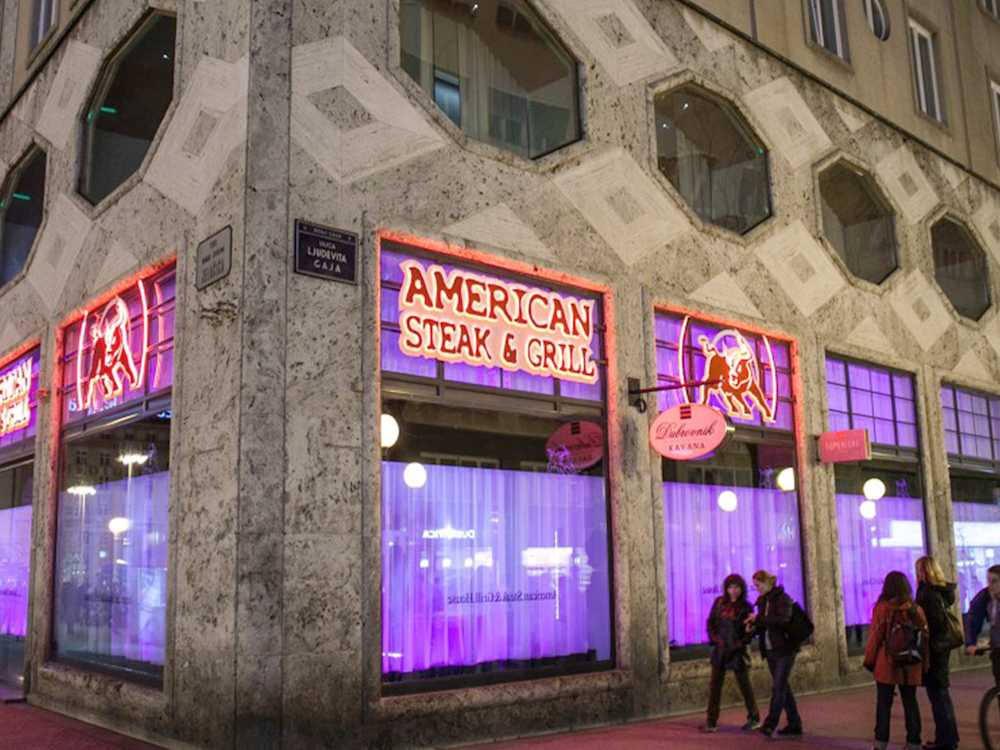 The American Steak House is attached to the adjacent Hotel Dubrovnik, and is located just in front of the tram tracks at Trg Ban Jelacic, two stops from our house. We ventured there relatively early in a our stay and enjoyed a truly "American" meal, a tomahawk steak of impressive proportions. The photo to the lower right shows Tracy doing here best "The Price is Right" display of this massive hunk o' meat along with the obligatory baked potatoes. Of course washed down with a nice house red. The American Steak House with its paneled wall and aproned waiters summons up a 1960's vibe--the characters of
Mad Men
would be right at home here. We did visit a second time during advent
season and had a wonderful buffet that included a variety of meats, fish, and vegetable dishes, a hearty fare to warm off the cold. Plus, it was only a ten meter walk to the tram stop!