The third leg of our Baltic journey took us to Latvia to visit Beach Village friends Olga and Sergey, who built a home in Amataciems, east of Riga. With them as our intrepid, knowledgeable hosts, we spent six wonderful days and had a taste of the history, food, and culture of the country. Before leaving Riga, our hosts treated us to traditional Latvian fare at The Lido restaurant, one of the eateries on Tracy's list. It is a massive cafeteria-style affair with every type of food imaginable. The photo to the left shows Tracy displaying the portion of the meal that we had not yet consumed (yes, there was much more)! On the way out of town, we passed the tennis hall belonging to Latvian sports legend Jelena Ostepenko, the 2017 French Open winner. Her fame may be fleeting however, as Olga has taken up tennis lessons. The photo of Ostepenko's tennis club, shot from our moving car, is in the photo to the left.



We arrived at Olga's and Sergey's home (photo to the left) in Amatciems. This was our base of operations as they showed us the sights of Latvia in a series of day trips. The main points of interest in our visit are detailed in the links below.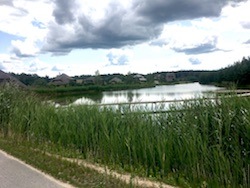 Amatciems is a planned rural community constructed around a series of small lakes.




Turaida Museum Reserve: preserves Latvian cultural history from the 11th century C.E.




Riga and Jurmala: A virtual tour of Riga's Old town and the beach resort of Jurmala




Zaubes Savvalas Kuinarias Festivals: a Latvian Food Festival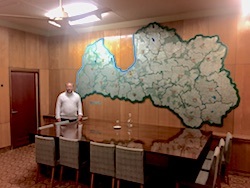 Padomju Selpenais Bunkurs: a Cold War Bunker




Cēsis: a tour of the old town, including the Cathedral and the Castle



Araishi Archeological Park: touring dwellings from the Stone Age to the 17th century